Adrian J Cotterill, Editor-in-Chief
Comcast Cable and Sony Electronics inaugurated a partnership last week with a 3,400-square-foot retail experience in the lower-level concourse of Comcast's downtown Philadelphia headquarters.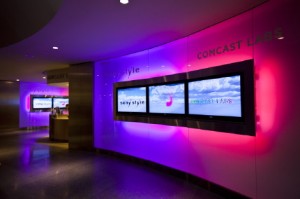 Tronic produced three product spots, which play across numerous screens in the retail showcase, to explain the marriage of Sony hardware and Comcast cable, phone and internet services.
For Tronic, the project marks a continuation of its move into OOH, high-end HD retail content.
Vivian Rosenthal, Tronic Studio's executive producer told us "The challenge was to link two distinct companies together in a coherent voice. The Sony Comcast co-branding spot has the feeling of a trailer for a feature film that brings the brands together in an uplifting, aspirational way that captures one's imagination and hits at the converging technologies they offer."
About TRONIC Studio

Tronic is a NYC based digital media and branded content studio founded in 2001 by Columbia Architecture graduates Jesse Seppi and Vivian Rosenthal. Their work moves between broadcast, branded content and experiential design. They've directed and animated spots for Target, Adidas, Microsoft and Sony, conceived and executed projects for Diesel, GE, Sharp and Wired (in store) and Nike, Smirnoff and Visionaire (online) and in general, have worked to eliminate lines delineating one form of creative media output from another. These visual futurists are boldly combining live action, animation, architecture, graphic design and branding through new uses of technology to create striking and conceptually based work.