Adrian J Cotterill, Editor-in-Chief
The last two nights in London have seen promotions for Manchester born fashion designer Mathew Williamson and his new range for H&M displayed prominently over Battersea Power Station (not shown) and Marble Arch (shown below).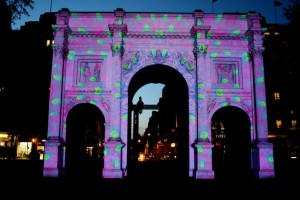 Williamson is renowned for his Indian fashion influence and so in this campaign, booked by Kinetic, we see **Peacock plumage draped over both Battersea Power Station and Marble Arch.
The Ministry Of Experience used static slides at Batter but a dynamic digital projection at Marble Arch.
**The Peacock is the National Bird of India and its colourful feathers are associated with Lord Krishna.