Gail Chiasson, North American Editor
Ayuda Media Systems, Montreal-based ad tech company specializing in software for out-of-home media owners, announced today at the #dse2016 that it has introduced functionality to its programmatic supply-side platform for DOOH media owners that enables realtime, non-predictive ad serving to target niche audiences and custom behaviors by leveraging data science to analyze mobile device concentration.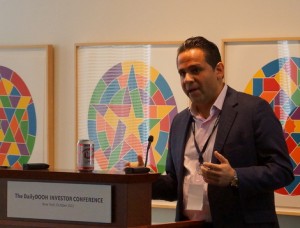 The platform also offers attribution capabilities that measure how many devices were sighted in front of a DOOH asset, served an ad, and later visited a geofenced location such as a retail store.
"We've been testing this functionality globally in private marketplaces with premium guaranteed inventory for the past five months and the response from buyers has been phenomenal," says Andreas Soupliotis, founder and CEO of Ayuda, who mentioned the new offering briefly during a panel on programmatic Tuesday morning during the #dse2016 DOOH Strategy Conference.
"Display, mobile and video-savvy buyers appreciate that algorithms move creative around non-predictively to retarget a niche audience within a DOOH network based on mobile device concentration," he says. "We're essentially equipping DOOH media owners with location-based cookies, which helps them tap into new digital revenue streams."
In addition to introducing realtime DOOH ad serving capabilities, Ayuda also introduced attribution capabilities to its self-serve buying platform that help buyers measure the effectiveness of DOOH campaigns. Data science algorithms are used to establish a 1-1 match of devices that were observed in line-of-sight of a DOOH asset when an ad was served, and were later observed in a pre-defined geofenced area. Retailers are particularly interested visitation-based attribution capabilities.
In the United States, Ayuda has partnered with AirSage to feed its ad serving and attribution platform using AirSage data. AirSage is an aggregator of anonymous signaling data from cellular networks that processes over 15 billion geotemporal signals each day derived from 100 million devices. AirSage's data science team has worked closely with Ayuda's team to derive niche audiences and custom behaviors from raw signal data.
"I'm thrilled to be working with Ayuda to deliver a rinse, lather and repeatable, state-of-the art ad serving and attribution solution that unlocks the power of AirSage data," says Ryan Kinskey, diirector of business development, AirSage.
Ayuda's ad serving and attribution platform does not require media owners to convert their signage platforms and players to Ayuda. Thanks to advances in HTML5, Ayuda has successfully served ads to non-Ayuda players without the need for an API integration.
"We designed this from day one to work with heterogeneous environments so that the barrier to entry could stay low," says Soupliotis.
When asked about pricing of such campaigns, Soupliotis says, "We've baked geotemporal ad serving and attribution into our platform. In doing so, we're helping DOOH media owners create a new sales pitch that appeals to new digital buyers. This new class of campaign merits higher CPMs because of its targeting abilities, efficient digital playout, and attribution analysis.

"With our updated platform, DOOH creative essentially chases a niche audience throughout the day with playout decisioning guided in realtime by mobile signals, and we're linking it with in-store visitation traffic. That's programmatic execution. And while building programmatic pipes between buyers and sellers is all the rage, we believe programmatic execution from mobile data is the real needle mover to tap into mobile budgets."
AirSage – a pioneer in population analytics – is the largest provider of consumer locations and population movement intelligence in the world. Each day, AirSage uses patented technology to capture and analyze more than 15 billion anonymous, real-time, cellular-signal data points to identify travel patterns and transportation trends. Partnerships with the nation's largest wireless carriers give AirSage exclusive access to data from more than 100 million mobile devices. Analyzed and aggregated, AirSage data provides actionable insights into where and when people travel and is transforming the transportation industry, commercial enterprises and a diverse range of industries.