Adrian J Cotterill, Editor-in-Chief
This week over 150+ folks will gather in Toronto for our AdTECH: OOH – Toronto Conference (Wednesday May 24). The event is conveniently, for many, scheduled the day before the first ever Canadian Out-of-home Marketing and Measurement Bureau (COMMB) Awards Gala (which itself has already attracted 400+ attendees) on the Thursday.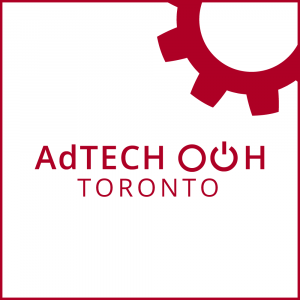 The conference kicks off with Cartier Media's Head of Data and Technologies Thierry Lessard who will keynote. 
As usual, the afternoon is full of intimate, exploratory and informative on stage conversations; Broadsign's Marketing Campaign Manager Aliya Sharif will be talking to Corus Entertainment Media Planning Manager Marita Olcese, Cineplex Media's Executive Director – Data Solutions Lee Lin will discuss 'Taking Data to the Next Level: The power of audience data to target and reach premium Canadian segments on BIG and small screens' with MiQ's Commercial Strategy Director Lillian Smith and we will also have a topical 'Veterans Affairs Canada Case Study' between Hivestack's VP of Sales, Canada Dana Tisch and Cossette Media's Media Planning Manager Nour Derouiche.
Aspex Eyewear's Global Head of Marketing Jenn Larry will be discussing with Vistar Media's Managing Director Canada Scott Mitchell how the brand leveraged Vistar Media's Proximity Targeting Capabilities.
COMMB President Amanda Dorenberg is bringing together data leaders and industry experts to discuss leveraging data and data technologies in OOH advertising. As data is fast becoming the core of OOH planning, execution, and attribution our panel of experts will discuss opportunities, new developments, and trends in data-driven OOH advertising. The panel will feature Environics Analytics President Jan Kestle, Vividata President Pasquale (Pat) Pellegrini, Accretive Media CEO Craig Benner and Tim Hortons Head of Marketing Solange Bernard.
And last but not least our regular 'Women in Marketing' session will see Talon Canada CEO Debbie Benadiba in discussion with Adapt Media CRO Amanda Newell, Bad Parade Publicist Kari Zalik and Intuit Canada's General Manager Stefania Mancini.
Now in its third year this half day conference is once again chaired by Yahoo's Global Head of DOOH Stephanie Gutnik and will take place at the Scotiabank Theatre Toronto.
Registration is open and can be found here.
AdTECH: OOH – Toronto is sponsored by Broadsign, COMMB, Cineplex Digital Media, Hivestack, Talon, Quotient and Yahoo!