Gail Chiasson, North American Editor
This month we welcome John Partilla, CEO, Screenvision, New York.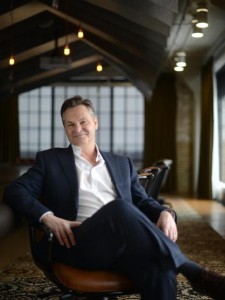 Your employment background has been largely in the advertising business. Tell us a bit about that background and what attracted you to the movie business.

Over my 30-year career, I have been able to sit on the media publisher, creative agency, and digital sides of the table. This is my third rotation on the media side, following stints at Time Warner, and Clear Channel (now iHeart). The Screenvision Media position gives me the unique opportunity to leverage my diverse experiences and tap into the powerful platform and immersive attributes of cinema. There is so much opportunity ahead of us with respect to meaningfully enhancing the audience experience, the advertising and content integration value, our internal cultural and team dynamics, and ultimately our own revenue and bottom line growth opportunities.

With the scarcity of premium video, we are really in the fortunate position of having the Premier Video offering within the premium video space – particularly when bolstered by the 40' screen, captivating and immersive environment, 100% viewable and unskippable with the most coveted audience in media. I feel like this is a once in a lifetime opportunity where we can make substantial impact on a sector.

Please enlighten us about Screenvision's history.

Screenvision Media has long been a leader in the cinema advertising sector, and has a long-standing and well-earned reputation of strong relationships with our affiliates, the theaters, and our advertising agency and brand clients. Being partner friendly, and really focusing on our stakeholders' businesses has created a history of win-win scenarios, and many long-term relationships. From the advent of cinema advertising through today, Screenvision Media has always been very mindful of creating and delivering value, which has truly been a hallmark of our success.

How many theatres and screens now make up your network across the US? Do you plan to add more? How and from where?

Our cinema advertising network is comprised of over 14,300 screens in 2,300+ theater locations across all 50 states and 94% of DMAs nationwide. We deliver through more than 150 theatrical circuits, including six of the top 10 exhibitor companies.

Darryl Schaffer is our executive vice-president of operations and exhibitor relations, and she does a fantastic job overseeing our exhibitor partners and network. She, along with the rest of our team, is continually looking to strategically grow our network while providing excellent service and solutions to our existing partners.

Screenvision almost became a part of National CineMedia last year but the deal was scrapped. Tell us what happened. Why had NCM wanted Screenvision?

Both companies are leaders in the cinema space, and there were perceived potential synergies, and certain additional opportunities for exhibitors and advertisers. Ultimately there was a measure of resistance from the U.S. Department of Justice, and upon further consideration, both parties decided not to pursue the deal further. What's more important though, is that we are very pleased where our business is heading, and the opportunities that presently lie ahead.

Screenvision received financial compensation when the deal with NCM fell through. How is that money being used?

We re-invested those related funds to further strategically invest in our network and platform offerings, in addition to various legal and other merger- related expenses.

Tell us about Screenvision's pre-show: what's involved; length; what else you would like to see it include; and what kind of advertisers are using it.

Screenvision Media's pre-show, entitled 'Front & Center', is about 22 minutes in length. It usually contains three-to-four content segments, including music videos, behind the scenes from movies, branded content, as well as trivia, supported by a growing mix of local and national advertisers. We really strive to have a focus on entertaining content that is, or will be, in the zeitgeist. The company has done a great job in elevating the preshow offering over the years, and the current Front & Center Preshow has really focused on enhancing the experience for moviegoers AND participating brands. That said, we do think that there are even more opportunities, and we look forward to further developing preshow programming that moviegoers continue to show up earlier for.

We are seeing growth across many categories, including historically TV lead categories like auto, entertainment, finance, consumer electronics and alcohol.

What about your other OOH and DOOH offerings in terms of lobbies, theatre fronts and concession stands: what are your plans for these?

The demand for the on-screen impact of cinema advertising has become so robust, we have been extremely active in creating opportunities for brands to extend reach beyond the screen. We are very excited about the enhanced offerings for digital displays, and feel that that Christie and Cinema Scene are leaders in the space. We are also exploring data and beacon integrations to learn more about audiences.

Whose content management software do you use for these, and why?

There is a combination of Ayuda and in-house systems for these lobby systems.

A lot of theatres are revamping their lobbies, the dining options, the in-theatre seating. Does Screenvision see that as an opportunity?

Absolutely! The environment is a big part of the draw for audiences – especially for millennials who are looking for those types of enhanced experiences while going to the movies. We've really seen our exhibitor partners invest in upgrades along those lines, and it only helps to make our network stronger and more appealing.

Tell us about Screenvision's growth strategy and expansion plans. What kind of digital signage would you like to add and where?

Screenvision Media's growth strategy is certainly driven by further building and strengthening our content, technology, data, and creative alliances that continue to enhance our unrivaled on-screen impact. We offer our advertisers an unequalled opportunity to showcase their brand in the highest premium video environment, a 40' screen exhibiting the best storytelling – the movies – in a captive and immersive environment. As we look to extend our engagement offerings, in particular video, we see digital signage playing a role as data, targeting, social and interactive capabilities roll out.

Is most of your advertising national or regional/local? Tell us about the interactive solutions you offer advertisers.

We have significant on-screen advertising business on the national and local front, with our national revenues making up a larger share of our business. As to accounts and advertisers, since we sell at a very local level, we have more individual local advertisers than we do national.

We offer advertisers a broad range of ways to connect to our audiences, as we realize that each and every client will have their own unique needs and preferences. From SMS/text to screen and audio synchronization (e.g, SoundHound) to push content to moviegoers phones, to audience controlling the screen with their gestures, voice and phone – we continually refine and elevate our technology capabilities to create deeper, richer, and ultimately, more impactful engagements.

What kind of measurement systems do you use?

We use Nielsen to measure and post our cinema audience.

How do you see cinema advertising growing in the future, or do you? What do you think will help it grow?

2015 was a great year for cinema advertising – the overall U.S. cinema category experienced a 15.6% increase in national/regional revenue with revenue topping $700 million. Cinema has very powerful attributes and brands are taking notice. The premier content, immersive and captivating environment, 100% viewable and unskippable platform in front of the most coveted audience in media have become essential elements of media plans, and it's only going to continue to grow.

We are putting more and more emphasis on technology integrations and innovations. That, paired with the long term stability of the box office, relative to prime TV ratings declines, and recent digital controversies, should encourage even more media buyers and planners to strongly consider cinema advertising as an ultimate prime video replacement.

What can theatres do to gain and retain audiences – and advertisers – when movies are so quickly and easily made available on services like Netflix?

There is no movie-watching experience more impactful than viewing it on a 40' screen with surround sound in a completely immersive environment. Moviegoers are truly looking for that unparalleled experience. There will always be a time lag between when movies shift from the big screen to other screens, so it is our challenge to continue making that period of time one that is exponentially better than watching a movie on a personal device.

And how has that challenge affected the way advertising is sold? How is Screenvision adapting?

We continue to make sure that we share with our advertisers the value of the audience and the resulting impact of the cinema impression, and we challenge ourselves to be the best at that part of the business. As advertisers and agencies increasingly become more comfortable with cinema, we are able to showcase our exceptional creative capabilities and build bigger integrated programs to help drive their business.

Do you think that cinema advertising should be considered separate from other DOOH advertising when it comes to compiling figures on growth of the OOH and DOOH industries? Why or why not.

Cinema advertising, in particular on-screen advertising, sits in two planning buckets, Broadcast TV/Video, as well as OOH. As such, the measurement should be thought about from a bi-focal lens. We have worked very hard to strongly position cinema as a highly relevant alternative platform in the Video/TV consideration set, while recognizing the power of our big screen medium in the more conventionally defined OOH bucket. Both universes are highly relevant, and we cherish and manage these precious ecosystems accordingly.