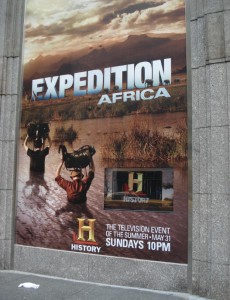 Nice US storefront installation featuring an upcoming History Channel series which includes both 3D digital displays and facial recognition technology.
Booked by Horizon Media in partnership with Pearl Media. This is the same partnership that brought the Andromeda Strain digital storefront in conjunction with Motomedia – which if you remember sparked the New York Times piece vilifying audience measurement technology!
Anyway this installation pretty much seems to show Horizon Media's acceptance of this technology and its role in providing campaign metrics.