Adrian J Cotterill, Editor-in-Chief
Ayuda[x] Inc., a location-based marketing technology company announced today at DMEXCO 2017 that it has rebranded itself as Hivestack Inc.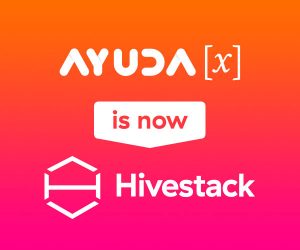 Andreas Soupliotis, CEO of Hivestack told us "The decision to change our name is an affirmation of our deep commitment to growing the programmatic out-of-home space with a brand identity that is intentionally distinct from our ERP partner company, Ayuda Media Systems ("Ayuda"). Ayuda has built a wildly successful ERP platform that is used globally by some of the largest OOH media owners to enable operational excellence. Hivestack addresses a different desire for OOH media owners – the desire to tap into new programmatic revenue streams."
In one short year, Hivestack has successfully helped dozens of digital OOH media owners connect into incremental digital media budgets from many Fortune 500 brands. The platform's main value proposition is a geo-temporal ad serving platform that allows digital marketers to activate location-based media based on macro-movements of a custom audience.
"Leading marketers are leveraging location data to gain intelligence on how to connect with their consumers. Our product roadmap will continue to make deep engineering investments that will help position digital OOH as a brilliant location-based media that helps drive offline business outcomes such as in-store visitation. Our new brand reflects an inflection point in our journey of technology development for programmatic OOH. We're really excited about our next 12 months of innovation – the best is yet to come."
Hivestack is a marketing technology company that helps marketers target consumers based on where they are and places they've been. Hivestack consists of a platform and a demand facilitation strategy. Hivestack's full ad tech stack platform includes an SSP for DOOH media owners, an ad exchange with APIs to monetize unsold inventory, a geotemporal DOOH ad server, and a DSP used by digital agencies to buy DOOH programmatically.