Adrian J Cotterill, Editor-in-Chief
Last minute preparations for London Digital Signage Week, which kicks off today, are all done. We're ready.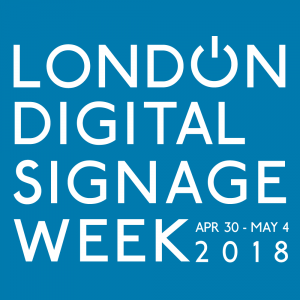 London this weekend will saw a dozen international travellers arrive, mainly Americans and Canadians, though we do have some folks registered for events from as far afield as Korea (one assumes South), Jordan and Australia.
As event organisers, we shouldn't be surprised but somehow, always are, by how last minute many people seem to be with their own final arrangements. Frday for instance saw dozens of orders pouring in for tickets across all three of our full day conferences and even this past Sunday saw a couple of continental Europeans make purchases. For people close to home in the UK and continental Europe, travel is easy to arrange but having said that, some orders were from people a long plane ride away – folks who would almost definitely of known that they were going to travel to the UK weeks ago!
Anyhow, The Global Digital Signage Conference, which is the first of our three major conferences next week is already 25% bigger than last year. Our new conference on the Thursday, the European OOH Automation and Programmatic Buying Conference has been an instant hit – we've already had to re-jig the room once from classroom style to theatre style to fit up to 100 people in the room and we'll likely be closing ticket sales in the next day or so.
Last year's DailyDOOH Media Summit, now renamed The European Out of Home Media Summit and which takes place Wednesday, has, as predicted, picked up a new influx of attendees from continental Europe.
Of course, London Digital Signage Week is not just about events put on by us. The Official Launch Party being held at London's TRAMP nightclub this evening, and put on by David Da Costa and his magnificent team at infiLED EM has seen people clamouring for invites and the event has been SOLD OUT since last week (there is a waitlist for anyone who has been lucky enough to have been invited but took too long in replying).
Beaver Group's Peter Critchley, who is also kindly chairing one of our sessions at GDSC on Tuesday, has once again been busy organising a free to attend 'LDSW MASTERCLASS – DIGITAL RETAIL: THE BOTTOM LINE' which effectively kicks off the week for us today at 14:00. It takes place at Google HQ, Kings Cross and there's even networking and drinks afterwards on Google's roof terrace AND still enough time to get to the Official Launch Party.
Free sessions and open houses are a main stay of the 'digital signage week' format (note to Europeans, this is still something that Americans – New Yorkers specifically – do so much better than you) so the week wouldn't be complete without RMG Networks hosting both an open house and a free half day conference (with some truly great speakers) on the Thursday afternoon.
There are lots of events I've missed covering here (Women in AV for example are hosting a networking evening on Wednesday) but you can see all that is happening on the official web site here.