Adrian J Cotterill, Editor-in-Chief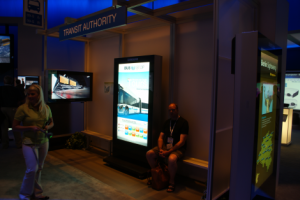 The Samsung stand at InfoComm 2009 was huge and impressive!!
There was lots we liked on the stand; including a series of three 2007, 2008 and 2009 dated 2 x 2 panels (not shown) that showed how bezels had reduced in size over the years!
Our favourite though was how they had brought context to their exhibit – here we see a follicly challenged individual waiting for a bus at a bus shelter – this was a great execution!!!
The picture is slightly dark as the screens were so bright!