Industry veteran Ron Graham, and Founder & Managing Director of Media On The Go Pte Ltd, a Singapore based consultancy for OOH media in the Asia Pacific region will be chairing AdTECH: OOH – Singapore which takes place at the Marina Bay Sands on Thursday April 15, 2021
Our Regular readers will know that our AdTECH: OOH Conference Series is aimed at those already in AdTECH wishing to learn more about the Out of Home Industry, and for those in Out of Home who wish to better understand Automation, Programmatic Buying, Marketplaces, Media Exchanges and Revenue Management.
The organisers of this in-person conference, the Ministry of New Media, have had a lot of success in the region and have big plans for more events there in 2021, AdTECH: OOH – Tokyo will take place, also in April 2021, the immediate week after Singapore and AdTECH: OOH – Sydney will take place for the third year running** in September 2021.
Addressing the issues with Programmatic OOH, Ron Graham told us "I still think (at least in Asia) that we have some ways to go in automating information, communication and trading between OOH sellers and buyers. Issues remain to be addressed here in the region; setting standards and generating reliable measurement. Educating all in the market is key and I really think this AdTECH conference can help advance these themes in the region early in 2021".
Ron expanded on this in 'Programmatic OOH in SEA, Three Things Are Needed' in Malaysia's top Marketing Magazine which you can read here.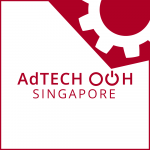 ** This year's sole industry in-person event since March, 2020 took place in APAC, namely AdTECH: OOH – Sydney on September 23, 2020 which was SOLD OUT. That was followed up with AdTECH: OOH – Sydney, An Extra Slice, a webinar aimed at all those in Singapore, Australia (states outside of NSW) and New Zealand that due to lockdown could not get to Sydney for the actual conference. A recording of that 60 minute webinar is available here.