Adrian J Cotterill, Editor-in-Chief
DPAA, the leading global organization working to drive out-of-home into its digital future, announced this week that Vibenomics, Inc. has joined the association.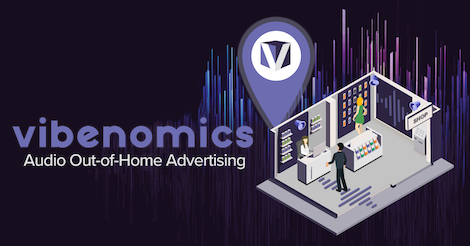 Indiana-based Vibenomics is a provider of streaming audio experience solutions for thousands of points of interest and the industry's first audio out-of-home programmatic advertising marketplace. The company enables location-based businesses to create and control their background musical vibe to influence sales and enrich the customer experience. Through curated playlists and professional voice announcements, Vibenomics provides the right revenue-enhancing vibe for over 100 brands inside more than 4,000 locations in 48 states, reaching more than 150 million people.
Barry Frey, DPAA President & CEO, told us "Vibenomics is a welcome partner that helps fulfil our promise of 'digital out-of-home everything' by offering brands a unique opportunity to speak directly to target audiences at the point-of-sale through background audio advertising, which has been shown to have a positive impact on how much time consumers spend in a store, what they buy and how much they spend. We look forward to working with the Vibenomics team to evangelize audio as an important part of the out-of-home ecosystem as they grow their business in 2020 and beyond."
Paul Brenner, Chief Strategy Officer, Vibenomics, said, "DPAA is clearly leading the way in the digital transformation of out-of-home media. Their wealth of networking opportunities and resources align perfectly with our ambitious initiatives, and we are excited about working with Barry and his team to help advance the out-of-home space through the power and efficacy of audio."
DPAA is a global, out-of-home marketing association that has created a strong community environment in which members drive and promote their digital capabilities. To deliver on their promise of "Digital Out of Home Everything," DPAA functions as a business accelerator and concierge/consultant for members. Membership in the DPAA community brings many benefits, including admission to quarterly "mini summit" meetings with ad industry and DOOH leaders; access to curated VIP tours and meetings at CES and Cannes Lions; an extensive database of research, best practices and case studies; tools for planning, training and forecasting; social media amplification; publication discounts; an opportunity to participate in media partnerships; insights on software and hardware solutions; further integration into the advertising ecosystem as part of the video everywhere conversation and marketing campaign; and more.
Founded in 2016 in Indianapolis as Fuzic, the company rebranded to Vibenomics in 2017 and is backed by $7.6 million in investments.