Adrian J Cotterill, Editor-in-Chief
Firefly tells us that it has successfully helped drive significant lift in vehicle sales through innovative use of location-based targeting and dynamic creative.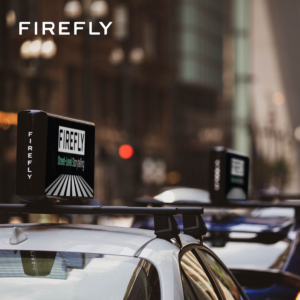 Challenged to create impactful DOOH media that would positively influence sales, Firefly leveraged data from S&P Global Mobility to measure the effect of DOOH media on consumer behavior. Using S&P Global Mobility's Polk Signals measurement solution, Firefly was able to quantify the impact ad media had on overall brand sales, inclusive of specific make and model sales across new and used vehicles.
Roey Franco, Firefly's SVP of Product told us "This is the next step in full-funnel measurement attribution for the DOOH space. The ability to understand how DOOH media drives lower funnel performance metrics, with something as challenging to measure as automotive purchases, is a game changer. The results we've seen thus far speak for themselves".
The brand achieved a 24% lift in all vehicle sales under the brand umbrella. Notably, there was a 51% lift in sales of the featured model promoted for those exposed to Firefly ads comparative to those who were not. Though both recorded a boost in sales, new vehicles saw a 3x higher lift.
Market specific results were equally noteworthy for the advertised brand when compared to control groups. Los Angeles saw a 70% lift in sales, while in Miami-Ft Lauderdale, there was a 65% lift.
The initiative and case study illustrates the impact and results that Firefly provides to their clients. The combination of Polk Signals along with Firefly's mobility-based DOOH network, gives brands and advertisers the ability to quantify the impact DOOH has on automotive purchase behavior.