Join YCD this Wednesday, June 10, 2020 at 12:00 EDT to learn more about their Cnario Suite CMS platform and be familiarised with the content playback platform that is driving some of the world's most eye-popping digital experiences.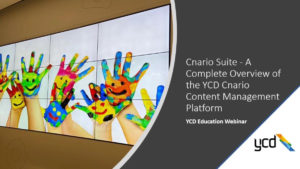 YCD's Cnario platform seamlessly drives digital signage deployments from the most traditional to the most complex.
Their software-based engineering approach is highly unique in its ability to create impeccable playback across multiple experiences and multiple display types all from a single back end console. The Cnario platform handles the heavy lifting otherwise performed by external hardware.
They tell us that their approach protects your total cost of ownership while providing stunning visual playback.