With its headquarter based in Shanghai, DMG is China's largest network operator for subway video media; currently DMG has a network of 13,000 displays in Hong Kong, Shanghai, Beijing, Tianjin, Shenzhen, Nanjing and Chongqing, providing commercial, entertainment and information services.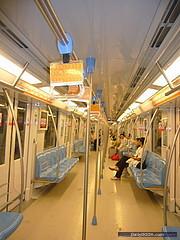 Nanjing Metro Line 2 will begin its service in May 2010. DMG acts as the media operator for Nanjing Metro and the current number of displays has increased recently from 1,180 to 4,800.
It is worth mentioning that DMG will be installing 19-inch displays actually inside the Line 2 carriages.
At present, Nanjing Metro sees daily passenger flow of 400,000 people and is expected to reach 1 million after Line 2 starts being put into proper use next year, reaching 2 million in 3-5 years (equivalent to two-thirds of the total population of Nanjing City).
It is also reported that as part of the Line 2 launch, DMG will be installing two x 103-inch plasma displays along the transfer channel of Lines 1 and 2.
Translated from Chinese to English by Onyee Lo, from an original post written by Eva Zhang over on DailyDOOH.asia