Signagelive, a leading provider of enterprise-grade digital signage solutions, has partnered with BrightSign LLC to provide a fully integrated, turn-key trial of digital signage solution.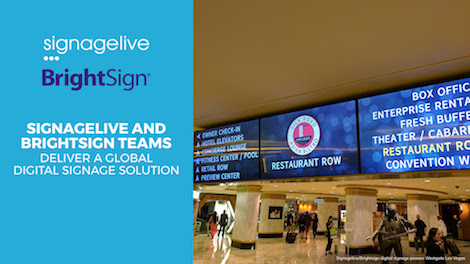 As a part of this partnership, Signagelive and BrightSign will offer free access to the fully licensed Signagelive digital signage software on BrightSign players. These bundled solutions will be provisioned via the BSN.cloud Control Cloud platform.
Ann Holland Vice President Marketing BrightSign told us "BrightSign values our industry-leading partnerships because delivering a complete and optimized solution to our customers is a win-win for everyone. BrightSign and Signagelive have been leading the way for many years, and this trial program is just another avenue for end-users to experience a first class digital signage solution".
While hundreds of clients already use BrightSign players with Signagelive Digital Signage Software, this new trial program is designed to streamline the implementation experience for new digital signage projects. The purchase of a BrightSign player is bundled with a trial account of the Signagelive software. Once the player is plugged in and powered, it interfaces with BSN.cloud Control Cloud, provisions itself and is automatically configured to be used with the Signagelive Digital Signage Software.
Allisa West Business Development Manager Signagelive said "We are excited to partner with BrightSign to offer this turn-key digital signage trial program. This bundled solution will provide customers who are looking to get into the digital signage space with an easy and seamless way to get up and running on the Signagelive platform. The reliability of BrightSign's purpose-built digital signage players combined with Signagelive's Enterprise-class software delivers a powerful integrated solution for our customers."
Signagelive's digital signage platform is used globally by over 2000 organisations to manage their networks.
Supplying digital signage software and services to multiple markets including retail, workplace communications, education, and hospitality, to over 46 countries across EMEA, Americas and Asia Pacific.