Russ Curry, Ministry of New Media
Pearl Media this week announced its newest out-of-home advertising partnership with Old Town Trolley, Nashville.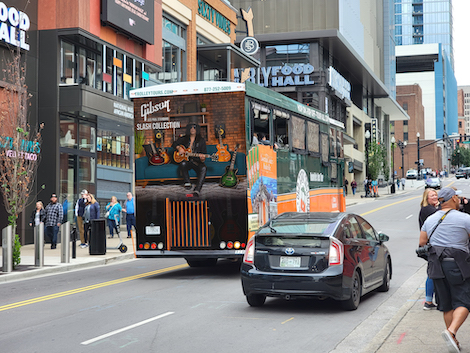 This new partnership provides Pearl Media and their clients the ability to transform over twenty transportation vehicles into large format out-of-home media assets.
It expands on Pearl Media's already dominant footprint in the market at Fifth + Broadway, offering clients unique options to expand their reach to all areas of Downtown Nashville.
Josh Cohen, President/CEO of Pearl Media told us "This relationship allows us to continue to offer clients amazing media coverage in one of the fastest growing and most visited cities in the United States. We are seeing tremendous success in Nashville and with the upcoming developments, corporate relocations and major events coming to town we want to be well positioned to seize all opportunities".
Standing over 13' tall, the Old Town Trolleys are the tallest street vehicles in Nashville. Advertisers can own the backs of each vehicle, providing a large canvas that can be seen by all nearby. The Trolleys run on a dedicated 12 mile loop around Downtown Nashville, stopping at 14 of the area's most notable attractions from the Country Music Hall of Fame to Honky Tonk Row to the Belmont Mansion.
Old Town Trolleys are immediately available for clients and brands who want to be part of one of the most vibrant dowtnown cities in the United States. For more information, including availability and pricing, please contact Pearl Media's Chief Revenue Officer, Anthony Petrillo at apetrillo@pearlmedia.com.
Pearl Media develops, manages and sells unique marketing, digital and static media opportunities. Working with best in class real estate assets, Pearl digitizes urban core, mixed use commercial space, transit centers and transit adjacent properties in top markets with premium place-based digital signage networks. We target and transform premium large format static properties and vacant storefronts into best-in-market out-of-home advertising opportunities.
Old Town Trolley Tours of Nashville provides high quality, historic tours of the Nashville area. Providing Nashville with the best historic sightseeing tour options is the core of the business. As a part of Historic Tours of America, Old Town Trolley maintains the high standards of operation and quality in 7 cities across the United States.