Manolo Almagro, Q Division Managing Partner
The dust hasn't settled on last month's big news – Danoo's recent acquisition of Ideacast and now we have more.
Last week, I had the opportunity to be one of the first to talk to Danoo's newly installed CEO, Garry McGuire. He gave some details on what would be next for Danoo.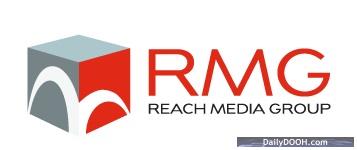 First off, as today's press release announces, Danoo and Ideacast are reorganizing under a single, unified brand to be called 'Reach Media Group' (shown to the left is their shiny new logo).
The key rational behind this new branding and strategy are outlined below.
You should note that I don't normally post things verbatim, but Garry's talking points make a really good case to support Danoo's next phase.
All Media Is Rapidly Becoming OOH – Advances in technology and in networks have effectively detached content and media from devices and locations. Consumers are engaging with content and advertising messages anytime, anywhere, and on their terms. This shift has created challenges for advertisers who are trying to reach their target audience.

Everyone Is Becoming a Prosumer (Professional Consumer) – The increase of information about products, prices, and availability – combined with thousands of additional marketing messages targeting each of us on a daily basis – have turned us into professional consumers. Prosumers are jaded and trained to tune-out advertising messages that don't directly connect with needs or desires that apply to them.

Not All Impressions Are Equal – We recognize that in the world of advertiser impression calculations, not everyone is equal. Consumer impressions have different values. The targeting and contextual advertising advances we have seen in the online marketing world are coming to DOOH. Our ability to filter consumer impressions by demographics, psychographics, and geography – allow us to deliver a more engaged consumer. A higher value will be recognized by an advertiser for a consumer impression that is highly targeted and receptive to brand messages.

Advertisers and Agencies Are Looking For Ways To Eliminate Waste – The purpose of advertising is to identify, connect with, and influence a target consumer who has a need that your product can address. Clients and agencies are constantly looking for ways to better refine this process to eliminate wasted media spend, and produce better ROI by connecting with consumers who are receptive to messages.
Garry also let me in on the fact that his company is planning on the future integration of both applications (Danoo's and IdeaCast) into a single, unified platform that will facilitate a more automated way to insert, manage and track ad placements across the entire RMG network.
This roadmap we believe will automate much of what today's ad network aggregators like, Adcentricity and SeeSaw manage today through a very  labor intensive process.