Gail Chiasson, North American Editor
Among Wi-Fi audience in cafes, 38% are actively making purchases online, and 77% are in the market to make a major purchase in the next 12 months.
These are just two of the many facts in the first JiWire Mobile Audience Insights Report to give advertisers a deeper understanding of the 'On-the-Go Audience'.
This inaugural report by San Francisco-based JiWire, major national mobile audience media company that reaches over 20 million unique users per month across its Wi-Fi media channel, reveals a raft of demographic and behavioral interests of Wi-Fi users. The research provides a view into overall Wi-Fi usage trends, which includes breakdowns by country, U.S. city and device type as well as specifics about the cafe Wi-Fi audience which is mostly affluent, male, between the ages of 25 and 49, and planning on making a big purchase in the near future. The report is designed to help advertisers better engage their desired audience when they are on-the-go.
"We're looking at running a study like this regularly, probably quarterly, to watch trends and give advertisers a better understanding of the various audiences using Wi-Fi in different venues, what they are using, and other data," says David Staas, JiWire's senior vice-president marketing.
"In this one, besides overall data, we've drilled down into better understanding the Wi-Fi users in cafés. Other studies may look at different audience parts."
The study uses JiWire's own compiled data that shows, eg, that the U.S. leads all countries in terms of public Wi-Fi locations, followed in order by the China, the U.K., France, the Russian Federation, Germany, South Korea, Japan, Sweden and Taiwan. However, most of the report is based on recent data from approximately 275,000 public Wi-Fi hotspots, as well as surveying 2,057 customers randomly selected in over 6,500 café locations across the US that used JiWire's Wi-Fi Media Channel in between April and June 2009.
The report shows that mobile consumption of Wi-Fi is on the rise as consumers become increasingly mobile. Overall, the number of mobile devices accessing Wi-Fi hotspots grew by a whopping 79% in the first half of 2009. While the iPod Touch and iPhone remain the most popular Wi-Fi enabled mobile devices, together representing 97.8% of all mobile device connections, the Palm Pre debuted as fifth popular mobile device in June/09 – within only three months from its launch. (Third and fourth were the Sony PSP and Nokia N-95)
While this report digs deep into the café user, it turns out that the biggest use of Wi-Fi hot spots is the hotel/resort sector, followed by airports, cafés, ferry/cruise ships, and the metro. And there has been an overall increase of 18.4% in monthly total users between Dec./08 and June/09.
Among café users, 85% connect at least once a week and 68% get connected for over one hour. Perhaps surprisingly, 40% are business decision makers with management titles, 23% have C-level or V-P titles, and 44% are in small- to mid-sized businesses, a traditionally difficult segment to reach.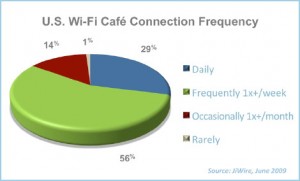 "We thought that the users were always 'on the go' people like salesman, but, contrary, it turns out that many people tend to use these venues as the extended 'home office' or 'college library' with 83% of users connecting locally in their own neighborhood – 40% of these connecting for work, 41% connecting for work and fun, with 19% connecting only for fun," says Staas.
And their spending plans are impressive. Of the 77% planning to make a major purchase in the next 12 months, 46% intend to buy a new smart phone; 53% plan to travel more than once on at least a week-long vacation; 27% plan to buy a new laptop; 23% plan to buy a car; and 23% plan to buy stocks/mutual funds – seemingly good news in the current economy.
In addition, of those using laptops in cafés, 74.4% use PCs and 25.6% use Macs.
"The findings completely challenge the assumption that this is a task-oriented audience just checking e-mail or doing work. Instead, they're fully engaging the Internet when on the go – using social networks, researching products, and actively buying goods and services," says Kevin McKenzie, CEO of JiWire. "As people increasingly spend more time out of home and out of the office, we look forward to sharing continued insights to help marketers better understand this hard to reach mobile audience."
The Mobile Audience Insight Report provides information that enables advertisers to reach their target audience with relevant ads and messaging. The report is available for download at no cost on JiWire's Web site.