The DailyDOOH Investor Conference
The Ministry of New Media have announced that this year, The DailyDOOH Investor Conference will be held on Wednesday October 26, 2016 (as part of New York Digital Signage Week).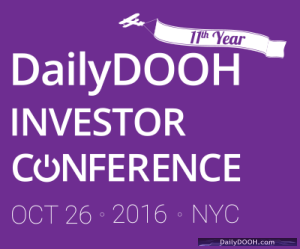 The conference will be chaired by DailyDOOH Editor-in-Chief Adrian J Cotterill who has a history of organising and moderating some of the most popular and successful industry events during the past nine years.
This is 'the' networking event for senior executives in the Digital Signage and Digital Out of Home industry and the conference will update investors on the latest trends and the future direction of digital signage and digital out of home and allow them to hear direct from the CEO's of major companies that participate in the market.
Network owners and industry suppliers will get invaluable executive insight and receive education on the requirements and trends being used by investors in today's capital raise efforts.
Brands and Advertising Agencies will be able to meet senior executives and come away from the conference having secured a good grasp of the key trends in the Digital Signage and Digital Out of Home world.