Adrian J Cotterill, Editor-in-Chief
DPAA announced last week during #OOHMiami that it has joined Prebid.org, the organization that oversees open source Prebid programmatic advertising solutions.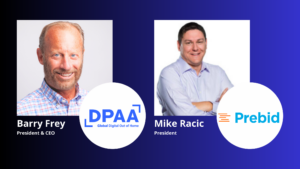 Barry Frey, President & CEO of DPAA told us "We're excited to become members of the Prebid community as it will open up more opportunities to support our mission to further grow the OOH industry. As Vice Chair of the DOOH Taskforce, which is focused on enhancing the Prebid framework with DOOH support and designing what the DOOH format looks like in that framework, I look forward to collaborating with our peers within the Prebid community and contributing insights to further best practices across the industry."
The DPAA will provide additional leadership resources to bolster Prebid's key Digital Out of Home initiatives. Hivestack CTO Mina Naguib was appointed as Chairman of Prebid's DOOH Taskforce back in October 2022.
Mike Racic, President at Prebid.org said "I'm pleased to welcome DPAA as a member of Prebid.org to reinforce our important OOH initiatives. We look forward to working collaboratively with them and leveraging their knowledge as we work to guide the industry toward a more standardized future."
Prebid.org is an industry-wide initiative supported by a diverse group of over 60 members, representing exchanges, publishers, buyers and third-party developers dedicated to creating standardized solutions for programmatic advertising. Prebid.org manages the open source projects Prebid.js, Prebid Mobile, and Prebid Server, as well as projects focused on Identity, Video and Native.
Prebid is set to host its inaugural invite-only summit in New York City this October which will gather industry leaders, including Barry Frey, to discuss the future of a privacy oriented and ad-supported digital ecosystem.
Out Of Home New York (formerly New York Digital Signage Week) will take place October 9-13, 2023. The week will still be the usual heady mix of FREE and PAID for events – conferences, showcases, cocktails, open house, breakfast debates, tours and other ad-hoc activities.