Adrian J Cotterill, Editor-in-Chief
During May, Clear Channel Outdoor Americas (NYSE: CCO), the Out of Home Advertising Association of America (OAAA) and the United Service Organizations (USO), America's leading nonprofit organization supporting service members and their families, are running a nationwide digital billboard campaign encouraging civilians to support the U.S. military community.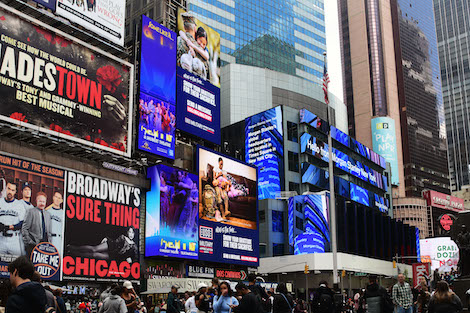 "It is our patriotic duty to support service members and their families," said Chief Development and Marketing Officer of the USO, Brian Cowart. "Our nation's security and the freedoms we enjoy are because of the continued sacrifice and service of so many men and women living in our communities across the country. We're honored to collaborate with CCOA and OAAA to generate greater public awareness of those who serve and encourage all to show their gratitude."
Less than 1% of the U.S. population serves in the U.S. military, but all Americans benefit from their sacrifice. The out-of-home media campaign will reinforce how essential it is for civilians to give back to the 1.3 million active-duty service members deployed around the world each year. It will include text and images portraying the message 'Show Your Gratitude for Their Sacrifice' encouraging Americans to support U.S. service members' wellbeing across the country.
While it is important to support the U.S. military community year-round, the campaign will run during an especially apt time: Military Appreciation Month. Military Appreciation Month was first observed in 1999 to recognize and honor the service and sacrifice of current and former members of the U.S. Armed Forces and their families and encompasses several military-related observances including Armed Forces Day, Memorial Day, and the anniversary of the end of World War II.
The campaign officially launched May 1 in Times Square and is unfurling across the U.S. with the USO joining forces with Clear Channel Outdoor Americas and OAAA to remind Americans of their part in ensuring service members stay strong from the moment they join the military until their transition back to their home communities. This month all Americans are invited to express their support with a message of gratitude at USO.org/military.
"Some of our own employees are former service members and much of our roadside and airport operations sit within communities that military service members call home. And it's important that we honor our service members' sacrifices to protect our country," said Scott Wells, CEO, CCOA & Clear Channel Outdoor Holdings, Inc. and Chairman, OAAA Board of Directors. "Partnering with the USO this Military Appreciation Month is an opportunity to show our appreciation – and encourage Americans across the nation to show their appreciation – for all that our service members do to keep us safe."
To learn about more ways you can support service members and the USO, visit USO.org/military.