Adrian J Cotterill, Editor-in-Chief
A life-size sculpture of John Lennon has been installed at the Yoko Ono Lennon Centre, helping the University of Liverpool mark this Sunday's World Beatles Day.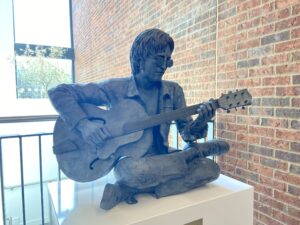 The bronze work by Daryl Smith, was created in the early '70s and depicts John Lennon sitting cross legged, playing his guitar. It captures the iconic songwriter who is known for crafting some of the most popular and enduring songs of all time.
The piece was donated by Mood Media, the world's leading in-store media solutions company, and will form part of the University's permanent historic art collection.
The sculpture is part of a collection of music icons, including Jimi Hendrix, that were commissioned by then owner of AEI Music (which then became Mood Media), Michael J. Malone. Michael also owns four of John's guitars.
Mood Media decided to donate the statue of John to the University – a decision which came about through the University's role in The Beatles Legacy Group, established by Culture Liverpool. Barry McPhillips, Head of Creative International at Mood Media, told us "We are delighted to collaborate with the University of Liverpool and install this sculpture at the Yoko Ono Lennon Centre. It truly is a fantastic space, befitting of this special sculpture. As a son of Liverpool myself, I understand the importance of the Beatles to the culture of the city so it is a particularly special moment to witness my company gifting this work to the University, and knowing it is now in their permanent collection for future generations to enjoy."
The installation of the statue furthers the University's existing connection with the Beatles and the Ono Lennon family. In 2021, the University launched the world's first MA programme exploring the Beatles' impact on music and heritage. The annual John Lennon Memorial Scholarships were also established in 1991 by Yoko Ono Lennon to support students from the region. Most recently, in 2022, John Lennon's son, Sean Ono Lennon officially opened the Yoko Ono Lennon Centre, a purpose-built, state-of-the-art teaching and performance centre, named after The Ono Lennon family – long-standing philanthropic supporters of the University.
Dr Mike Jones who teaches on the MA Beatles: Industry and Heritage programme and sits on the city's Beatles Legacy Group said "Our programme helps students make contemporary sense of the Beatles as a lasting cultural phenomenon. The installation of this sculpture reinforces the connection between the University and the band. The music of the Beatles continues to have impact in the world and the installation of the statue in the Yoko Ono Lennon centre celebrates their continued and enduring power. On behalf of the University I want to extend my thanks to Mood Media for their generous donation."
The sculpture is on open display, for free at the Yoko Ono Lennon Centre.