Adrian J Cotterill, Editor-in-Chief
Videri has announced a new partnership with Loupe Art, an innovative digital art platform that brings museum-quality art into people's homes and businesses.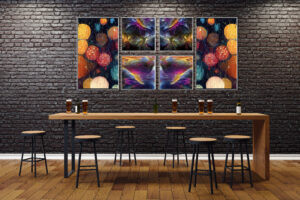 Loupe Art is now available as an add-on service for Videri Canvas users, providing access to curated art collections Tranquil Impressions, Curator Showcase, Happy Hour, Wide Angled Poems, and Striking Abstracts.
Loupe Art offers a vast collection of curated art pieces, ranging from classic to contemporary, that users can display on their digital screens. Additionally, unique art programming defines how your guests remember you — shapes moods, calms nerves, offers inspiration — a catalyst enhancing the atmosphere, and encouraging repeat business. Establish (or amplify!) your company's art identity to produce on-brand levels of comfort, excitement, edge and elegance with Loupe's ever-expanding art catalog.Display new artwork every day, providing a fresh experience each time they look at their screens.
The Loupe Art add-on service is available now for Videri Canvas users for USD 8/month. To learn more click here.