Hivestack, the world's leading, independent programmatic DOOH #AdTECH company has announced a verified impression multiplier solution for digital out of home in select regions across APAC.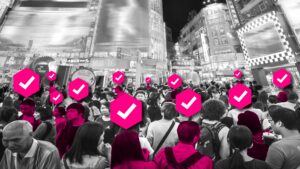 With increasing demand for standardization of measurement and the need for a unified methodology in many emerging markets, Hivestack's impression multiplier methodology  provides a turnkey, trusted solution for media owners across APAC. Independently backed by Nielsen, it allows media owners situated in emerging markets, such as Taiwan, to more accurately calculate reach, frequency and quantify impressions across their network of screens and more seamlessly integrate with buy-side partners, including the world's largest omnichannel DSPs. Furthermore, this provides advertisers, and the wider industry with credible, high-quality impression data and a consistent framework to better inform decisioning and measure the impact of DOOH.
Hivestack's proprietary methodology combines emerging market media-owner circulation data such as traffic data, dwell time and visibility assumption in combination with deterministic (anonymized) mobile device data sourced from leading telco carrier data and provides up-to-date screen level measurement of each ad play. Subsequent data verification service is to be conducted by Nielsen every two months which involves the assessment of Hivestack DOOH traffic against projected traffic estimates and impressions volume. The result is a meaningful, high-quality impression multiplier aligned with industry guidelines that is used for programmatic transactions to support media owners' growth across sales, inventory management and business development.
Troy Yang, Managing Director North Asia at Hivestack told us "There has been one common challenge in outdoor advertising for many markets across APAC, the need for a credible and unified measurement for outdoor impressions across all media owners. As one of the world's largest programmatic DOOH platforms, integrated across 12 APAC markets, we are proud to provide this important solution to all existing and new publishers integrated on our platform. Hivestack has a longstanding commitment to ensuring our inventory is of the highest standard and this is another offering that ensures the quality of supply remains top priority. This is a huge step forward for the industry as more DOOH buyers grow accustomed to impression-based buys in OOH."
In addition to Hivestack's rigorous internal processes to ensure inventory integrated within its Supply Side Platform (SSP) is of the highest quality it is also compliant with several industry standards, guidelines, and best practices to create an open and transparent environment for buyers and partners across the globe.
No doubt, having the methodology for this new solution backed by Nielsen adds a level of credibility that is unparalleled in the industry and marks a significant step towards establishing a more trusted and credible standard of measurement across emerging markets that currently do not have third party verification or trade organizations with local guidelines.
We are told that Hivestack will continue to work with existing global MRC accredited trade organizations that provide industry measurement for most mature markets. The solution will be available across select APAC markets in H2 2023.