Adrian J Cotterill, Editor-in-Chief
Branded Cities has announced plans to launch a new and exclusive transit network located at Port Authority's Midtown Bus Terminal in the first quarter of 2024.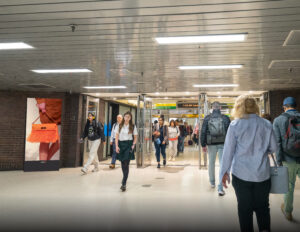 The digital network is complementary to the existing assets that Branded Cities manages at the Midtown Bus Terminal as well as the Port Authority's George Washington Bridge Bus Station.
The network of five digital units will be located at key, high-traffic areas throughout the Midtown Bus Terminal. Installation work has recently begun and when ready, the five digital units will be capable of supporting a large variety of Out-of-Home executions such as live feeds, dynamic content, Dreamroom 3D creative and will be available programmatically on participating supply-side platforms (SSPs).
"This digital network is the natural evolution of our partnership with the Port Authority of New York and New Jersey after the installation of our Landmark static spectacular and 8th Avenue Digital spectaculars on the Midtown Bus Terminal's exterior," said Denise Levine, Chief Revenue Officer of Branded Cities. "Additionally, this network further enhances Branded Cities' growing position in the Out-of-Home transit space with inventory located at various Washington D.C. WMATA stations, as well as our coverage throughout Union Station Toronto, Canada's busiest building."
"Our partnership with Branded Cities continues to bring a high value advertising network to the Midtown Bus Terminal with the addition of these digital screens," said Paul Fleuranges, Port Authority real estate advertising manager. "Advertising brands looking to connect with on-the-go commuters in the heart of Midtown with relevant messaging should look no further than these state-of-the-art screens."
Manhattan's Midtown Bus Terminal is a major transit hub in New York City and can lay claim to being the largest of its kind in the Western Hemisphere and the busiest in the world by volume of traffic. Located at the intersection of the highly trafficked 42nd Street and 8th Avenue, the Midtown Bus Terminal welcomes over 65 million people through its doors, almost all of which come from the affluent suburbs surrounding Manhattan. Branded Cities' digital network will be front and center to these commuters as they begin and end their daily journeys.