Recently opened Taipei Bus Station not only offers the largest transportation terminal in Taiwan, but also boasts a 6-star hotel, residential condominiums with 24 hour concierge service, offices, a shopping mall, and a 9-screen cinema.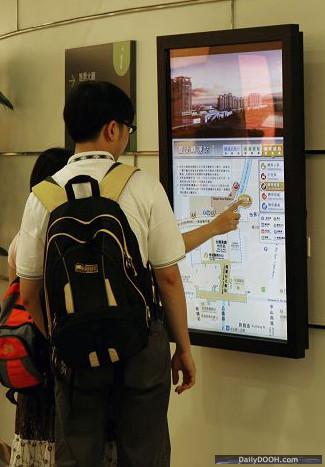 As part of the Main Station Zone project to promote urban renewal the Taipei Main Station Zone offers direct access to Taiwan High Speed Rail (HSR), 2 MRT lines, the International Airport Express, Taiwan Railway System, and Inter-City Bus Terminal and here we see DT Research™, Inc., a self styled "industry leader in the development of information appliances for vertical markets" with an interesting digital signage deployment.
The press release told us little however apart from technical jargon, technical specifications etc so we have no idea how many screens were deployed, what they are being used for and who manages them.
Where's pressDOOH when you need 'em?, Ed
About DT Research

DT Research™ develops and manufactures web-enabled information appliances for vertical applications. The WebDT family of products is based on thin computing platforms for secure, reliable, and cost-effective computing. WebDT products include digital signage solutions, wireless tablets, point-of-service handhelds, compact modular systems, and display-integrated information systems. These systems emphasize mobility, wireless connectivity and touch displays. Powered by Windows® Embedded and Windows XP operating systems, WebDT devices offer durability and ease in integration, leading to solutions that can be remotely managed with the comprehensive WebDT Device Manager software.