We noticed this nicely titled "Shopper's Helper" recently launched by KioStar
Described by the manufacturer as "the next generation in in-store marketing" the Shopper's Helper is an interactive touch screen kiosk designed specifically for the supermarket industry.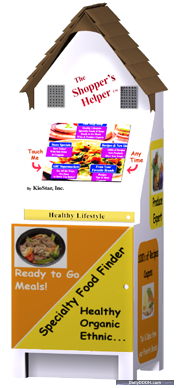 For supermarkets, the Shopper's Helper drives sales storewide, instead of selling more of one product at the expense of competing products. It does this by interactively giving shoppers personalized offers and information about products they had purchased elsewhere, had never been aware of, or did not know enough about to buy.
For CPG Brands, the Shopper's Helper provides a multimedia showcase for their products at the point of purchase. CPG Brands can provide multimedia demonstrations, recipes, coupons, buying suggestions, meal ideas, tips, helpful product details, nutritional information, or anything else to interested decision-making shoppers.
The Shopper's Helper never bombards shoppers with unwanted advertising. Instead it interactively gives each shopper the offers and information that interest them. For example, a shopper interested in healthy foods receives offers and information on the type of healthy foods that interest them; a shopper that wants ready to eat meals, ethnic foods, food/wine pairings, fresh produce information or recipes, gets that.
The Shopper's Helper also has information on sales and coupons. This not only helps shoppers save money, but can, over time, begin to reduce the amount of printing that CPG Brands must do, making this a very "green" capability.
The Shopper's Helper is FREE to supermarkets and lets them include their own promotions, messages and private label items. CPG Brands pay a surprisingly affordable monthly fee to participate.