Gail Chiasson, North American Editor
With consultants to the digital screen industry always touting the need for compelling, original content, here's one DOOH company that has found something original.
Irvine, California-based PumpTop TV has teamed up with online marketing trailblazer Gary Vaynerchuk to provide its 12 million monthly viewers with original tips and content from Vaynerchuk's new book "CRUSH IT! Why NOW Is the Time to Cash In On Your Passion (published by HarperStudio).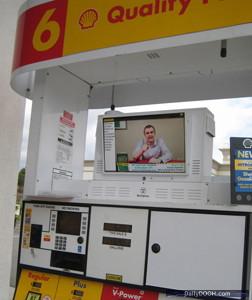 Vaynerchuk is a self-trained social media guru who reportedly revolutionized the wine industry with his video blog, Wine Library TV, and grew his family wine business from $4 million to $60 million in annual revenues in five years. As of this week, he is delivering original 30-second video tips from his book on PumpTop TV nationwide network.
In CRUSH IT! Why NOW Is the Time to Cash In On Your Passion, Vaynerchuk shares his secrets on how business owners can boost sales using the Internet. He shows audiences how to find their passion, then, step-by-step, how to turn it into a flourishing, monetized business.
He seems to have the credentials. Vaynerchukwas the youngest winner of Marketwatch's Business Award at 27; was named to the 'Silicon Alley 100' by Silicon Alley Insider – 2008 as well as to the '101 Most Influential People in New Jersey' by New Jersey Monthly – 2009.
Doug Woo, executive vice-president of AdTekMedia, parent company of PumpTop TV, says, "The original video content from Gary Vaynerchuk is part of PumpTop TV's ongoing campaign to deliver compelling informational and entertainment that viewers will not find anywhere else. Everybody wants the keys to business success and we are teaming with Gary to provide valuable insights taken from the pages of his new book 'Crush It!' This partnership also underscores the powerful capabilities of the network in terms of its ability to deliver geographically-specific banners that target local market happenings and retail offerings."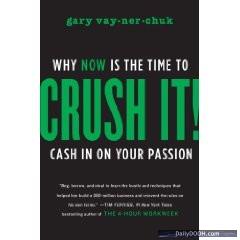 Gary Vaynerchuk says, "PumpTop TV is a marketer's dream that lets me speak directly to millions of focused eyeballs across the country with accompanying banners that give local market details on my 'Crush It!' book tour. Jumping on exciting new ways to reach consumers one-to-one is a large part of how I built up my business and PumpTop TV is a winning model I had to be a part of."
As part of PumpTop TV's Local Boost technology, the network can target key markets with localized ads and content, with banners that promote details of Vaynerchuk's personal book tour appearances.
For the tour, see crushitbook.com/crush-it-book-tour.