Developing content for Christie Digital's MicroTiles is an interesting experience as you are dealing with very high resolutions which we of course wanted to take full advantage of. Even HD at 1920 x 1080 can sometimes not be big enough, though clever use of video footage integrated within more traditional animation can produce some stunning results.
We are now in the process of creating more content for Christie's launch event on 9th December which will include advertising for Finlandia Vodka and a marketing piece for The Empire State Building.
However, as can be seen with this concept (shown below) which ran last week at the SEGD launch party one technique when dealing with high resolutions is to use hi-res photography and there is an abundance of it out there in the stock libraries online.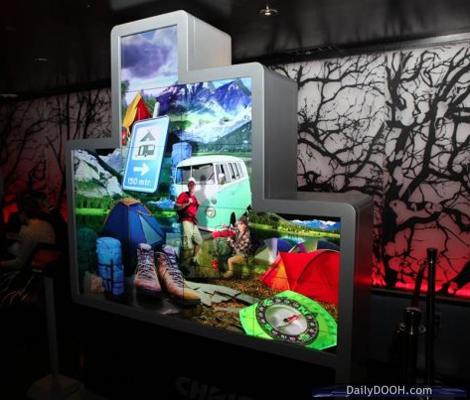 This concept played with specifically chosen photography to narrate a story based around a modern couple living in the city.
The story was split into a number of chapters that showed where they lived, what they did in their free time, where they went on holiday and the kind of things they did for leisure activities.
Each chapter consisted of animated cut-out photography that visually described specific areas of their lives – the animation technique used was to 'pop up' the 2D photographs in an almost cartoon like style, overlaying each photo to create a 3D landscape montage of 'popped up' imagery.
Within each sequence we also combined HD video footage with some clever masking and edge feathering – without needing to fill the screen we placed some HD clouds and sky at the top of the sequence which again added to the layered effect – combining both 2D and full HD video footage added another dimension to the piece.
The overall effect was very dynamic with a multiple of hi-res photos popping up at the same time making the imagery really jump out at you and on the MicroTiles the effect was spectacular – being hi-res with no pixellation whatsoever viewers got an unparalleled smoothness of animation.