Manolo Almagro, Q Division Managing Partner
If you haven't seen this story trending on Twitter or Digg, you will soon.
Last week, 3 News Anchors from Alabama's Local TV Channel 13 literally became the poster children for the cause 'why moderation is extremely important – when integrating UGC into your digital out of home experiences'. 
This picture (shown below) – which has been authenticated as real, Ed demonstrates how a seemingly benign tweet can wreak havoc on innocent bystanders.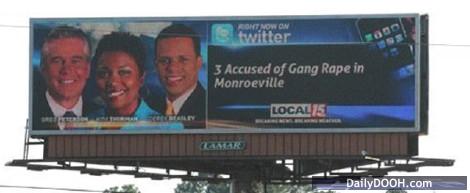 Photo Credit: Pallmetto Scoop
There is a very important lesson to learn here. It's not- if the UGC powered, digital billboard is running moderation filters, it's what kind of moderation strategy should have been used to negate this type of situation in the first place!
Passive vs. Automated Moderation Strategies
The majority of digital signage networks that integrate with UGC, use filters to 'catch' unwanted words and stories. The software running keyword algorithms processes the incoming UGC stream and depending on the conditional rules, it will either accept or reject the feed from playing back on the sign.
This is a passive moderation strategy. It's easy to implement, and inexpensive to operate, most likely Lamar's advertiser applied the basic no-profanity and no competitive news channel filter on their twitter feed.
This would explain why this 'particular' tweet made it through the moderation protocol. It's neither obscene or offensive – considering the fact that it is a valid news story. This UGC issue only manifests itself when read in the context of the overall template layout.
This is something that passive filtering cannot anticipate. In the case of this outdoor billboard, an active moderation strategy would have been more appropriate.
This approach would be implemented by applying a secondary moderation process as the fail-safe for filtering phonetically pronounceable versions of the obscene words, which also incorporates an algorithm for 'sentiment' and then context.
The downside of this approach is the on-going cost of operation, since it requires either the use of very sophisticated software (which is also very expensive) or the use of human powered moderation (also expensive).
Moderation Services for the DOOH industry
With the (pretty much) unprecedented adoption of digital out of home billboards and retail networks incorporating UGC as part of their daily playlists I've been asked by several companies that have specialization in social-media and chat room moderation services (both automated and human powered) to help them adapt their services for (possible) use in the DOOH realm.
What's interesting is that these companies have already started to value engineer the 'human-powered' moderation services to a very affordable level by leveraging their existing off-shore labor pools and enhancing their web-based remote moderation systems to 'fit' typical digital out of home network workflows.
If you're a network operator or digital billboard operation AND you're interested in learning more about these types of services and tools, drop me a line at the DailyDOOH.