Gail Chiasson, North American Editor
Evolution Home Entertainment Corp. has announced the Canadian launch of Savant – the Apple-based control and automation solution that unifies audio, video, lighting, security, climate, communications, Internet, and more, into one seamless experience.
Through customizable touch panels, remotes, mobile devices and keypads, Savant gives the user effortless control and management of each service in his home.
"With Savant's simplified solution, your home's entertainment, security, lighting, heating, air conditioning, and pretty much anything else you can think of, can be easily accessed and controlled," says Brad Middleton, product manager for Evolution Home. "And, yes, you can do it from anywhere in the world."
A simple tap on a screen allows the user to turns lights off and on, raise and lower shades, turn off the audio and video, or even start the coffee brewing.
While wall screens are usually 13", they can vary and be mounted even as a 42" screen in a coffee table. Further, once an installer puts the system into a home, it can be upgraded automatically without further visits to the home. And access can be via an app in an iPhone or other portable device. If there is a problem – eg. if there is a neighbourhood electricity failure – the home owner is notified quickly by e-mail.
A basic music and control system set-up starts at about $6,500. The more extras you add, the higher goes the cost.
One of the premiere features of Savant, which is already available in the U.S., is TrueImage Control, which enables the user to select and control services in any given room by viewing a photo of the space and simply touching the element he wants to adjust or change.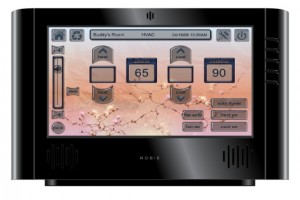 To set it up, professionally shot images of each room are loaded into the ROSIE control platform, enabling users to navigate and control their home using TrueImage Control. As an example, the homeowner can employ a swiping action to the screen, resulting in the images of each room rolling across the display until the desired image appears. One room of the residence can be designated the 'master' image, while all other rooms remain visible in a scroll box across the bottom of the screen that can be 'gestured' left or right, much like using an iPhone.
"A visually captivating interface, TrueImage Control is the most intuitive solution ever conceived for the home automation marketplace," says Middleton. "Using capacitive glass technology TrueImage uses the same GestureTouch navigation found on iPhone and iPod Touch."
Savant's Home Automation Application transforms iPhone and iPod Touch into portable control devices providing full access to the Savant solution.
Savant offers a family of products that fulfills the technical and lifestyle needs of any customer. Their ROSIE product line presents a wide variety of solutions for residential, commercial, pro AV, MDU and hotel, transportation, educational and governmental installations.
Evolution Home Entertainment Corp. was named exclusive distributor for Savant Systems LLC in Aug./09.
Savant, being premiered at Sound Designs in Toronto's historic Distillery District, will be available Dec. 3/09.