Adrian J Cotterill, Editor-in-Chief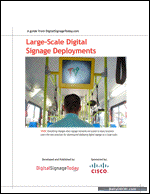 This guide is quite network oriented as you would probably expect from Cisco systems – as you know we believe that digital out of home is more a content-delivery play than a digital signage play anyway – and so the strengths of folks like Cisco systems and Stratacache come more into play than any client software playout engine.
LOUISVILLE , Ky. — Digital Signage Today, in conjunction with Cisco Systems, has published a new industry guide on tactics for deploying digital signage on a large scale.

This guide is loaded with advice and best practices from some of the digital signage industry's top experts, all of which have significant experience with large scale rollouts.

The guide also addresses some of the top concerns in deploying digital signage in multiple locations such as:

• Planning a large scale content strategy
• Assessing an existing network for digital signage
• Content distribution to more than one end point
• Coordinating all departments for a deployment
• Avoiding common pitfalls in a large scale rollout

"We were excited to finally address this topic of large scale deployments because there really has been a demand and interest for this information in the market," said Bill Yackey, author of the guide and editor of Digital Signage Today. "This guide offers a great starting point for anyone looking to expand their network or launch one at multiple sites."
The guide is available as a free download from Digital Signage Today.