Two days before Christmas and the DailyDOOH team has spread out to the four corners of the globe (well, almost); Gail of course is under snow in Montreal (one assumes that is 'normal' for this time of the year in that part of the world), Adrian is under snow in Henley on Thames (definitely NOT 'normal' and tells us he woke up to minus 7 degrees this morning), AHN has de-camped early to the family seat in Cornwall, Cornelia is in Hamburg and Jorge is in Madrid leaving me to do all the work!!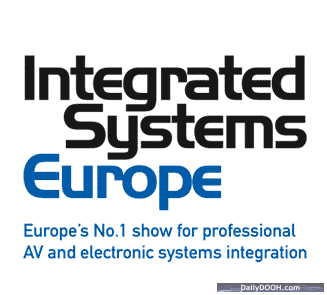 Looking at the calendar there are only 5 and a bit weeks between now and Integrated Systems Europe 2010 which will of course take place at the Amsterdam RAI, Netherlands, from 2–4 February 2010.
Mike Blackman, Managing Director, Integrated Systems Events recently told us "No tradeshow can thrive without bringing new customers and new markets to its exhibitors. Right from its first showing in Geneva in 2004, this is something ISE has proved it can do. AV manufacturers are turning to ISE as a platform from which to launch their products and services into new and emerging sectors, and that is one reason why we are hosting so many new exhibitors in Amsterdam in February."
It seems that there are more than 100 new exhibitors who will be showing their wares at Integrated Systems Europe 2010 (us included in that list of new exhibitors as well of course, see '10N118 – The Blogger Lounge, Hall 10, ISE).' – that's 20% of the events 500-plus exhibitors who will be completely new to the show!
Professional audio, digital signage, lighting-video convergence and home automation are all spurring exhibitor growth.
In the pro-audio sector the likes of L-Acoustics, HK Audio, Sonus, Ateïs, Out Board/TiMax, Baldwin Boxall, Seeburg, Cloud Electronics, and XTA/MC2 Audio are all exhibiting for the first time.
Digital signage of course continues to grow in significance for ISE, with a second dedicated area for these technologies being created in Hall 10 after the main Digital Signage Hall, Hall 12, sold out!