Gail Chiasson, North American Editor
Bench brand fashions for men and women chose Montreal-based NEWAD as a digital media partner to reach fashionable and urban 18-34 year olds in a just-ended campaign that ran on NEWAD's innovative 19" HD LCD screens on its Restos & Bars network across the country.
To enhance the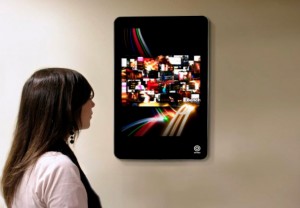 consumer experience, Benach made use of the wide range of creative possibilities offered by the 19" eBoards by presenting its new collection in a unique full-screen portrait-size ads. In addition to its ads, Bench was the official sponsor presenting a content segment called Street Stylin'. These short clips, produced in partnership with NIGHTLIFE Media, Montreal-based cultural reference for the 18-to-34 age group, presented young urban people and their fashion profiles.
"The partnership was perfect, given that the types of establishments NEWAD selects in its digital network target consumers that are already familiar with, and embrace, the Bench brand," says Lawrence Routtenberg, vice-president, Bench.
NEWAD's eBoards have a sleek, sophisticated design and wireless Internet Protocol connectivity. Advertisers that have taken advantage of this new technology have included Bell, Movie Central, Fido, General Motors, and Samsung.
NEWAD which is continually expanding its digital network, currently offers inventory in all the major markets across Canada: Vancouver, Calgary, Edmonton, Toronto, Montreal, Saskatoon, and Regina. Its digital network is audited by the Canadian Outdoor Measurement Bureau (COMB). It is a founding member of the Out-of-Home Marketing Association of Canada (OMAC), and is a member of The Canadian Out-of-Home Digital Association (CODA).