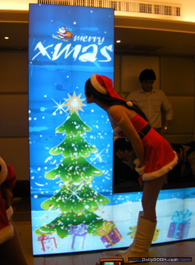 This is strangely reminiscent of the screen our team put together almost two years ago for Harrods, see our post (April 2008) How The 'L' Did That Get There?, with the now defunct ITrans technology from also defunct Cambridge based Screen Technology.
Then again it should look familiar as it's made up of LiteMax's LITILE modules which, to all intents and purposes, is the same dated technology.
The Taiwanese girls dressed in Santa Suits (yes there was more than one) – I counted four. Ed went down well at the LITEMAX 2010 New Product Launch in Taiwan recently.