Gail Chiasson, North American Editor
Brian Macauto, Sales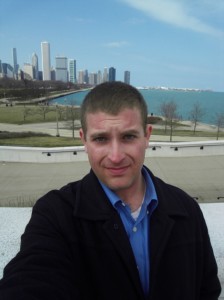 Engineer, Magenta Research, is responsible for sales, av-system design, opportunity management/tracking, integrator/dealer training, end-user consultation, on-site tech support – and more sales – in the West Coast and Mid-West United States, with occasional overseas travel.
Describe your personal work space.

Like most people who work these days, I have a computer, a laptop actually, but that is where the similarity ends. Every day, for me, is something different. I may be traveling on an airplane or driving to a customer in a car. Some days I am actually in a real office. But most days are spent in front of customers, working with groups of people huddled around a conference room table. However, being 30,000 ft. up, my tray-table as a desk, is also a common occurrence…..but what a view!

How do you get to work?

Planes, trains and automobiles! Every day is a unique commute to work… my GPS can be a lifesaver!

What is an average day like?

Waking up in a different state, different city, and a different hotel every day, is normal to me. The first order of business is finding coffee! Then, I figure out where I am, with whom I'm meeting and where I need to go. Once on location, I spend my time working with the integration companies' engineers and sales team. I then help them design solutions, and sell!

What is essential to you being able to work happily?

Selling a product I love and working for a company I respect.
How flexible are your working conditions?

Considering that my working conditions are so vast, I would say that my working conditions are extremely flexible. In actuality, I believe that my working conditions taught me to be an extremely flexible person.
What do you think your employer looks for in its staff?

Independent, motivated people who have a passion for success and sales.

What suggestions do you have for your company?

Always produce the highest performance product on the market. We can do things that no other company can, which will continue to make us successful!
Do you have any frustrations you would like to share with us?

Frustrations? Well, I would have to say that air travel is definitely not what it used to be, and I guess I would put that in my 'frustration' category. It would be nice to be able to stretch your legs a little on a flight, but I guess those days of leg room, and being pampered, are only a wish and a memory now, and we are resigned to sitting jammed in a tiny seat with no room to move.

What do you like best about your job? I love meeting new people every day and using my knowledge to solve customers' problems. It gives me a great sense of accomplishment, and satisfaction when I can assist with the design of a facility, and watch it transform from a concept on paper to a living, breathing casino, airport, or hospital, etc.
How open is your company to new ideas and suggestions?

Magenta Research is always very open to new ideas. That is one of the great aspects of working in a medium-sized company. It gives us the ability to walk into the President's office and openly discuss ideas and concepts. The management team at Magenta has an open-door policy, so it is easy to drop in, sit and brainstorm with any of the team members. We often sit and discuss technology opportunities.

How much responsibility have you been given? A very large responsibility I would say! I am responsible for the sales performance of 27 states. I also perform worldwide technical training when needed. Keeping track of my schedule as I bounce around from state to state can be a bit of a challenge.
How green are you and your company?

I would say we are very green. We are a medium-sized company that does big business. Because we don't have 'TPS reports' or other time- and resource-wasting documents to compete for every mundane task, we can limit the use of finite resources easily. Our technology is also very green. Low power consumption is the key!