Gail Chiasson, North American Editor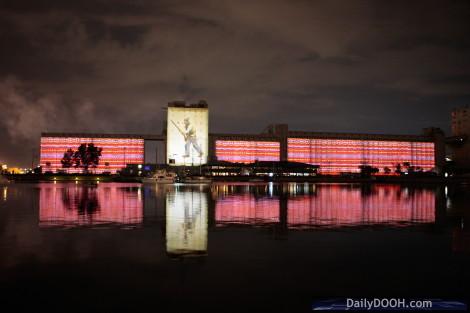 Quebec City has gone big, big, big, with the world's largest multimedia projection, created by Robert Lepage and Ex Machina.
Since June 20, The Image Mill has been lighting up Quebec City's Old Port grain silos to celebrate the city's 400th anniversary.
This stunning multimedia experience tells the story of Quebec City's history in four chapters corresponding to the city's four centuries of history: waterways, the age of exploration and discovery; road building, clearing and developing the land; the railroad and industrial expansion; and finally, the age of air travel and the development of communications. The scenes use the entire 81 grain silos that have been transformed into a huge screen of 600 metres long by 30 metres high. Watching a train drive across the silos in one scenario is sheer visual excitement.
The entire south side of the Louise Basin from Pointe-à-Carcy to the western extremity of the basin, is wired for sound with speakers. A total of 329 speakers, 27 video projectors, 20,000 lumens each, and 238 spotlights, 203 of which are LED, are being used around the site. Outside this zone, the public can tune into 88.3 (Radio CKIA-FM) on their Walkman for a simulcast of the soundtrack to make the most of this experience. Spectators perceive no lapse between the sound and the image, no matter where they are seated for the projection.
The Image Mill is being presented for 66 evenings – until August 24/08 – from 10 pm to 10:40 pm, regardless of the weather.
And if you are flying in to see this and any of the other innumerable 400th anniversary events, you'll be among the first to see the three new 6' x 2 1/2' plasma digital screens in the arrival area and eight LCD TV 46" diagonal screens at the city's Aéroport Jean-Lesage that has been 80% rebuilt with an $65 million investment.
The screens have been put in place by Astral Media Outdoor, which also handles the backlits, column posters and other advertising structures at the airport. The TV screens have sound and include a mix of information, including news under arrangements with television networks Radio-Canada (French) and Canwest Global (English). Noise of luggage and customs precludes the use of sound on the three large screens in the arrival area.