We keep tweaking Stand 10N118 (the Blogger Lounge in Hall 10) as we learn about what works and is comfortable and what does not. Here's Tuesday's layout…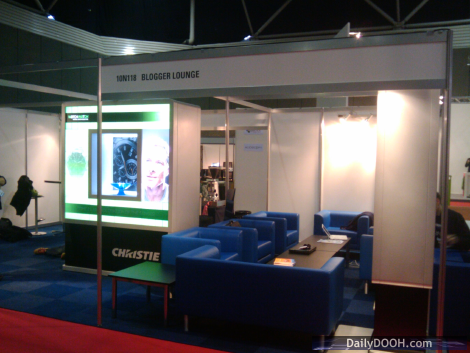 We moved all of the comfortable chairs to the right hand side (as shown here) to create a (sort-of) screened off private area. Yesterday we had 4 or 5 bloggers at one time all filing stories (free wi-fi for them is great and we have plenty of electrical sockets) and seating for 9 is just about right!
From this angle you can see the side of the 1 x 5 MicroTile WayFinding column (on the far right of the picture) which has done an amazing job of attracting folks to our stand from the main entrance to Hall 10.
To the left is the now famous Big 'O' also made of MicroTiles of course. Behind the Big 'O' is our Barista's espresso machine setup. The space on the left hand side of the booth contains high tables and chairs for serious coffee drinking!