Adrian J Cotterill, Editor-in-Chief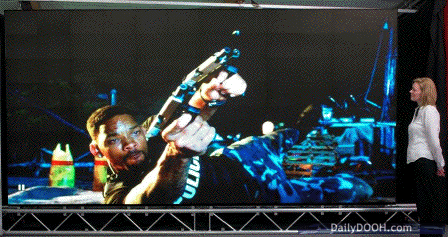 I am not sure if this is, in fact, the World's biggest digital display system but it is certainly huge – the digital display system measures an enormous 200 inches diagonally !!
I had a chance to have a look at it recently in Screen Technology's Cambridge Demonstration Facility.
It was put together by a company called Shearline, an award winning Cambridgeshire based manufacturing company. Shearline is recognised throughout the industry for its integrated engineering and manufacturing service and has been working closely with Screen Technology as its UK manufacturing partner in the development of ITrans.
ITrans is Screen Technology's revolutionary high-resolution, large format digital screen technology.
To get a 200 inch diagonal 24 ITrans Modular display systems (basically 34 inch 'building blocks') were seamlessly tiled together.
This approach allows digital screens to be created in almost any shape or size with none of the disadvantages – sub pixilation and image break up – associated with some LEDs when viewed too close (see my previous blog about LEDs in windows for an explanation of this).
This sort of technology works incredibly well in bright sunshine – which is why people like Digital Screen Networks use them in their Virgin Megastores Windows Display Network.
Full press release at http://www.responsesource.com
See also…
www.shearline.co.uk
www.screentechnology.com