Adrian J Cotterill, Editor-in-Chief
Here we see Ocean Outdoor's Holland Park Roundabout with its uniform grey surround covered with a self adhesive vinyl enhancing the three high specification digital screens being taken exclusively by BMW for two weeks (the site is normally sold to multiple advertisers in a 40 second loop).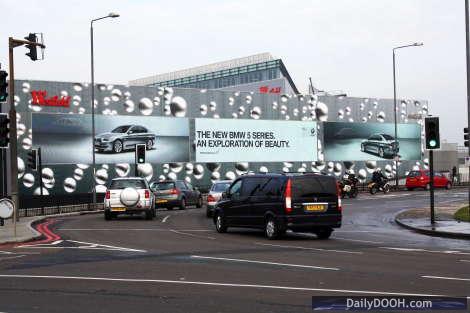 BMW we are told, required impact for the launch of its latest model, leading to Posterscope's selection of Holland Park Roundabout for its high profile location on one of the busiest access points to Central London.
Ocean's Media Wall in Liverpool and their latest banner in Manchester are also being utilised.
Paul Hutchison, Managing Partner at Vizeum told us "BMW wanted to utilise premium formats such as Holland Park Roundabout & Liverpool Media Wall to showcase the new 5 series. Not only do these sites have the scale and impact necessary to communicate the prestige of BMW they also have the opportunity to fully wrap the sites to create even more standout and with fully animated copy in Liverpool."
Ocean Outdoor launched Holland Park Roundabout in 2008, having been awarded the external advertising contract for Westfield London just beforehand. Since the site's launch, Ocean has continued developing its large format roadside digital portfolio at a rapid pace investing over £7million in 2009.