Gail Chiasson, North American Editor
Reality Interactive, Middletown, Connecticut, provider of design and development of content rich solutions for self-service, digital merchandising and digital signage applications (see their latest offering for banks here) has introduced bitSHUTTLE for hotels.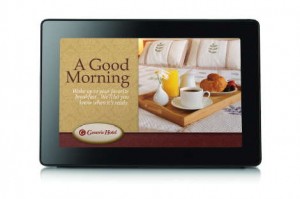 bitSHUTTLE is a software solution that powers off the shelf digital photo frames. enabling hotels to engage guests with frames displayed at check-in and throughout hotel lobbies for maximum customer interaction. The photo frames can be Wi-Fi enabled allowing for real-time updates.
Reality Interactive enables hoteliers to create an interactive relationship with customers beyond check in and check out. From hotel restaurant, spa and health club options to tour coupons, loyal guest programs and hotel special events, digital photo frames provide guests with valuable information. All information contained displayed in digital photo frames is updated in real time with timely, accurate information that is compliant with corporate messaging, hotel branding and marketing campaigns.
"We see these units frequently at hotel properties and they're typically purchased by local managers and disappointingly display crude, homemade images," says Craig Martin, CEO, Reality Interactive. "bitSHUTTLE hits this issue right on the head, by offering hotel properties with sharp, cutting-edge, customizable graphics. Hoteliers are provided with a range of approved, easily modified, consistent corporate messages for each hotel property and display timely, valuable information that is appealing and useful to local guests."
bitSHUTTLE's cost effective software is deployed on inexpensive, off-the-shelf digital photo frames for a low monthly fee. Digital frames used in conjunction with bitSHUTTLE are similar in size to digital photo frames that are sold to the general population.
Reality Interactive specializes in design and development of content rich solutions for self-service, digital merchandising and digital signage applications used by corporate brand teams. Clients include companies aiming to influence customers at the point of purchase within arm's reach of products. Reality Interactive connects consumers to brands and educates them about new and existing products to influence their present and future purchasing decisions. Services include design, development, maintenance and analytics that track self-service and digital merchandising/ signage applications. Reality Interactive's real-time Program Management Portals, Remote Management capabilities, customizable analysis and reporting tools place brand/ product managers and marketing teams in full control of the message as well as the measurement of successful brand penetration among consumers on national, regional and local levels.