Gail Chiasson, North American Editor
Middletown, Connecticut-based Reality Interactive has officially launched bitSHUTTLE, its digital signage offering designed for banking institutions to easily localize and communicate updated rates and new product information to customers in real time.
Reality Interactive, founded in 2004, is a provider of design and development of content rich solutions for self-service, digital merchandising and digital signage applications.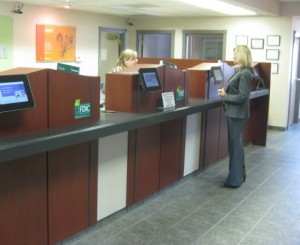 Using 'off the shelf' digital photo frame
hardware, the bank's brand messages, content and interest rates can be displayed at individual teller stations or on larger format screens strategically placed in different areas of the branch.
Already in use at an unnamed Ohio-based national bank, bitSHUTTLE has been credited with an increase in share of wallet and merchandising recall, decreases in perceived wait times and a marked increase in new appointments scheduled with existing customers.
bitSHUTTTLE is an innovative solution that enables corporate marketing teams to create customized messaging which can be quickly and easily updated at the local level. Designed to target customers while they are inside a bank branch, several digital frames, each with unique, consistent messages with a localized feel, can be positioned in different areas of the institution, including near the teller window. The photo frames can be Wi-Fi enabled allowing for real-time updates.
Individual bank managers and employees are provided with unique permissions for making simple, quick changes to digital frame messages. Content can easily be uploaded with location-specific templates containing bank brands and information created by the bank's marketing agency or Reality Interactive. Accessed via a secure 'drag and drop' Web interface, bitShuttle is an easy-to-use, role-based software platform which delivers bank branded content that initiates cross-selling opportunities and maximizes customer interaction. It also can carry RSS feeds.
In unveiling bitSHUTTLE, Reality Interactive pointed to facts from the 2007 Digital Out-Of-Home Awareness & Attitude Study conducted by Online Testing Exchange which found that:
· 63% percent of adults said digital signage catches their attention -the highest level reported across all media surveyed including billboards, magazines, TV, the Internet, newspapers, radio and mobile phone advertising;
· 53% percent of survey respondents found digital signage to be the most interesting medium;
· 51% percent of 18-24 year olds reported taking an action as a result of seeing ads on digital signage.
"bitSHUTTLE exceeds the branding objectives of financial institutions by providing branch-specific information that addresses customers' banking needs on digital frames," says Craig Martin, CEO, Reality Interactive. "By providing real time interest and CD rate updates, customers will identify the digital frames as a valuable bank information resource, ultimately enhancing customers' overall relationship with the institution. Customers can obtain new campaign information consistent with current brand initiatives without being bombarded with tedious flyers and paper print outs."