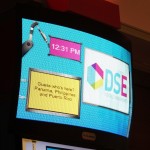 Visitors to the recent DSE show in Las Vegas will have seen the 112″ screen at the entrance to the main exhibition hall which we wrote about here.
It wasn't obvious, unless you stopped to look, that this thin screen was actually free hanging, and shaped the way it was because the corners were tied back forming a curve in the surface. It behaves like a big sheet of flexible plastic.
Here's a short new video just released by NanoLumens of the screen in action showing just what they mean by flexible.