Watch out for the graphic below on exhibitors' booths at #ScreenMediaExpo next week.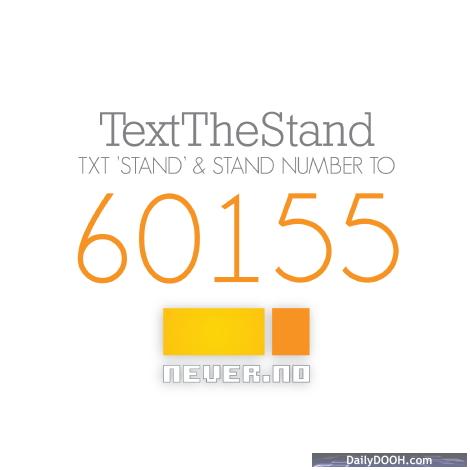 Attendees will be able to Text 60155, for example, "Stand C6" and receive back by SMS the text that the stand has supplied to never.no the operator of this service.
In that instance (C6) the reply to the original text would be 'STRATACACHE Dynamic Digital Signage with Audience Measurement and Traffic Analysis. www.stratacache.com or call: +44 20 3170 5543'
Exhibitors are advised to take the graphic and incorporate it into their own content shown on the stand; Christie Digital will be showing an animated version of the graphic for example on a video wall built of 8 x 3 MicroTiles and signagelive will be using it on dual 52″ 1080p panels running either side of a 65″ landscape (all from Phillips) in the guise – shown to the right here.
If you are an exhibitor you can download the graphic for your own use by clicking here.
The service is free and texts will be charged at the users standard network rate.