Adrian J Cotterill, Editor-in-Chief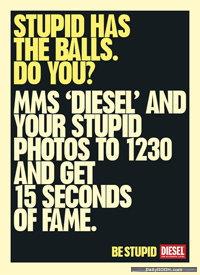 Diesel, who are well known for weird and wacky under the leadership of founder Renzo Rosso was introduced to the world of fashion over thirty years ago as an innovative denim design company.
Where they lead others often follow and we think that this MMS campaign that kicked off in Copenhagen a week or so ago to support their global 'Be Stupid' campaign may well also be the start of a trend amongst retailers to use shop front windows / mobile interaction and Facebook interaction.
A digital window display put together by Comtech invites passers-by to photograph themselves with their mobile phone and MMS the picture into Diesel – scarily (but hey this is the Danish we are talking about here) none of this is moderated and the MMS goes to the window display and to a Facebook page.
The campaign was put together by Comtech, Kinetic and Argumenta.com we believe with the mobile interaction infrastructure supplied by never.no
If the campaign goes as well as it is going then we understand that it is likely to be rolled out across Europe.