Gail Chiasson, North American Editor
Jesse Gavin is lead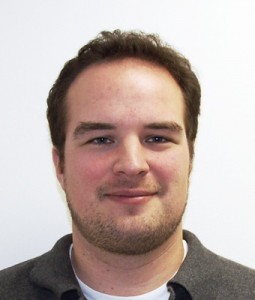 content developer at Screenfeed in Edina, Minnesota, U.S.. His responsibilities include generating concepts for new types of content and developing processes for the generation of Screenfeed's content (web applications for human content editors, dynamic image generation, animation programming and more).
Describe your personal work space.

I have a large L-shaped desk in the only nook in our office with two large LCD monitors and the Microsoft Natural Keyboard 4000 (the only keyboard I would recommend to a friend). Our office is painted in a deep and calming blue.

How do you get to work?

Depending on the day, I either bike to work (There are 10 miles of beautiful bike trails between home and the office.) or I drive (through a tangled mess of road construction).

What is an average day like?

Thankfully, because we have enough staff to manage the business details, I get to spend my days creating. About 70% of my time is devoted to programming in ASP.net and the other time gets spent designing visually. Because we have a disc golf course nearby, we've gotten pretty good at that, too. It's like golf using frisbees. Very relaxing.

What is essential to you being able to work happily?

Being trusted to do make the very best product that I am able to make.

How flexible are your working conditions?

Very flexible. So long as the job is done well, we're able to manage ourselves.

What do you think your employer looks for in its staff?

People who:

actually care about what they're making;

are intrinsically motivated to work hard;

are likable human beings;

are creative thinkers who have an opinion about the way things should be made.

What suggestions do you have for your company?

Hire more sales people!

Do you have any frustrations you would like to share with us?

I wish more digital signage software makers supported the Media RSS standard.

What do you like best about your job?

The fact that I get to spend the majority of my time actually building stuff.

How open is your company to new ideas and suggestions?

Extremely open. Sometimes it actually needs to get reigned in a bit.

How much responsibility have you been given?

Honestly, it feels like the way it works around here is that you're as responsible as you want to be. If you want to step up and take more responsibility, you have it (if you can actually deliver what you promise). I have as much responsibility as I want right now.

How green are you and your company?

We don't really deal in hardware at all, and we don't print much of anything so we are as green as the electricity we use (which in Minnesota is primarily from coal).