Amit Jain, President, CEO and Founder, Prysm, Inc. gave an interesting speech at today's Projection Summit.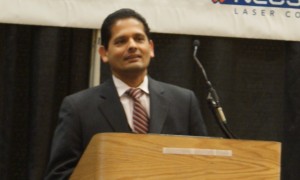 We will round up the summit a bit more tomorrow (Tuesday), but a couple of things he said caught our attention which we don't think have been said publicly before…
All their development of Laser Phosphor Display  (LPD) technology means that Prysm now own 14 patents and have 111 applications
5000 nits brightness is possible using more lasers firing at the screen – it's better to use more lasers rather than drive them harder, so you don't shorten their life.
The main thrust of the presentation was LPD's green credentials, both from a materials and manufacturing perspective, and also the costs associated with running it during its lifetime (including their Eco calculator which we investigated previously).