Russ Curry, Ministry of New Media
The first Mall Digital formats in the Republic of Ireland have just been launched by CBS Outdoor, using dZine's software solutions and solid state media players. The new state-of-the art digital panels have been rolled out in The Square Town Centre in Tallaght, just outside the city of Dublin.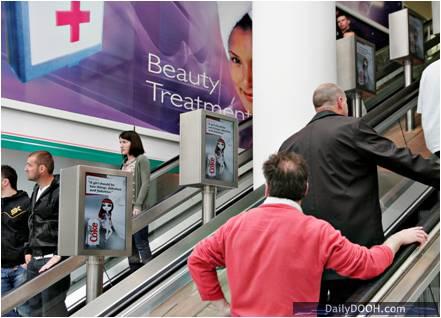 In all, there is a total of 30 Digital Escalator Panels leading from the Central Plaza to the top level of the Centre, split between 20 on the travelator and 10 on the escalator. Five 57" LCD screens complete the digital offering in the Central Plaza of the Centre.
According to Marie Lawlor, Sales and Marketing Director of CBS Outdoor, "The Square Digital formats offer advertisers a fresh and vibrant opportunity to engage with audiences in one of Ireland's largest shopping centres. Advertisers have access to 10 second commercials on all 30 DEPs for two weeks with similar campaigns available on the LCD Screens.  We are very impressed with the quality of the sites."
Belgium's dZine provided the software and media players, CONRAC GmbH and DisplayLite Ltd supplied the LCD dislays, and EUROTEK Ltd is responsible for  the installation, support and maintenance.
Frederik Vroman, business development manager dZine told us "I believe this installation is one of the most unique in Europe as it is perfectly tailored to the specific requirements of CBS outdoor to achieve their business goals. Vibrant video advertising at the escalators has been realised by synchronizing all media players on video frame level,  booking, allocation and billing for CBS' advertising campaigns happens through our tailored campaign manager while our content management solution stands for the automated back bone to handle all content distribution and scheduling."
The system has been running successfully since March 2010.  Research commissioned by CBS Outdoor and completed by Amarach Research revealed that over 60% of the visitors to the Square Shopping Centre, recalled seeing an advert on the digital escalator screens and that 90% of consumers found the new Digital formats to be informative and entertaining.