OK, OK so I finally did it – yes, join a queue to buy an Apple product – I had promised myself I wouldn't get excited but at 8.30am this morning I was one of 200 checking their old 3G's, taking pics of the queue and mailing all their friends. 2 hours later and I had one in my hand and I have to say it is pretty awesome.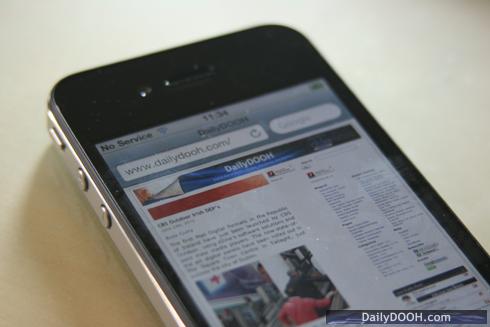 The first thing that strikes you is the screen resolution, it is just incredible – like printed ink – the photo shows the DailyDOOH site on the screen and I can easily read the small text without zooming.
It is fast, VERY fast and the new addition of multi-tasking to switch seamlessly between apps is a god send and makes it feel like a real smart phone.
OK Apple Bashers so Flash is still unsupported as is obvious through the lack of 2 adverts showing on the DailyDOOH site but Steve says wait for HTML5 – either way something had better happen soon.
However if you don't have one and / or are still undecided then it's worth checking out a superb Engadget in-depth review here which gives a comprehensive overview of all things iPhone 4!
In the meantime I am patiently waiting for the thing to activate…