Gail Chiasson, North American Editor
Christie digital Systems took an ambitious approach to this year's Cinema Expo International 2010 in Amsterdam this past week.
As a market leader in digital cinema projection, Christie showcased exclusively to the international cinema community its multi-configurable modular digital canvas, MicroTiles.
The award-winning system was developed with digital signage applications in mind, such as lobby displays and retail or concession signage – perfect for movie theatres. MicroTiles' small footprint means that they can be tiled and arranged to make whatever size, shape and resolution is required, for the environment in which they are to be placed.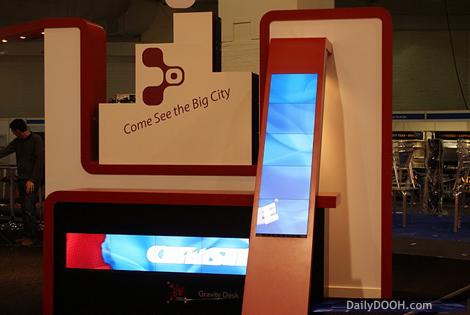 At the Christie booth, the gravity desk configuration (as seen at the 2010 edition of Screenmedia Expo Europe) was constructed from MicroTiles, along with additional 1×5 and 4×1 configured columns (the former displayed on a 30° vertically angled column), promoting a demo application for concession stands.
There was also a conventionally-shaped 8×4 MicroTiles wall to showcase footage of the World Cup and serve as a cinema lobby information display with movie poster and trailer promotion.
In addtion, as part of the Cinema Expo Screening Programme, Christie D-Cinema projectors supported three screening presentations with Series II projectors, including Toy Story 3 in 3D.
Aware that the modern cinema experience begins the second the cinema-goer arrives in the foyer, today's exhibitors are looking to capture additional revenue with increasing investment in foyer infrastructures
"There is no product more suitable on the market to display content in high definition on virtually seamless modular displays," says Richard Nye, Christie's cinema sales director, EMEA. "Christie MicroTiles can either blend unobtrusively into the environment or be 'sculpted' into an unusual geometric shape, and enhance the foyer design aesthetic."
Christie was an official sponsor of Cinema Expo International, which brought together key decision makers from every major, regional and independent cinema circuit, major international film distributors, as well as the manufacturers of products, services and technologies for the cinema industry. The convention included preview screenings of upcoming films, product reel presentations, educational seminars, special events and awards galas.